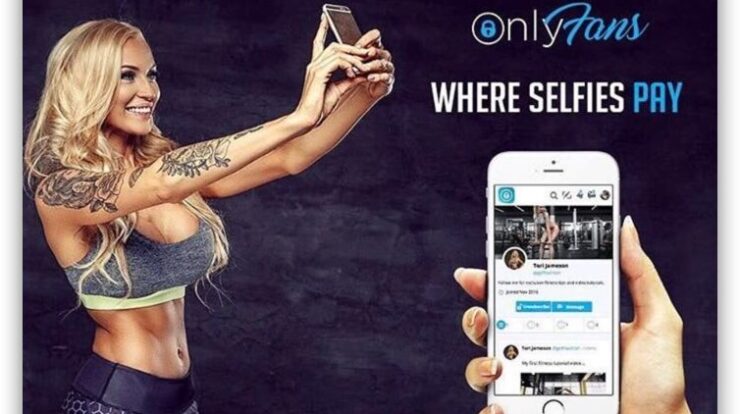 Onlyfans is where you can sell monthly membership of your adult content to your paying fans. You can make a good amount of money from this.
Earning money through showcasing your adult content on different platforms is very common among cam girls, adult models and porn stars.
Although this is not their primary source of income but they do love the additional income and the fame they get from such platforms. Its a way of passive income source and its good if you wants to increase the fan following.
Snapchat is one of the most famous platform where cam girls and adult stars showcase their adult content such pictures and videos and earn money. This is where you can sell your account membership to your fan.
Apart from Snapchat, Instagram is also used by these cam girls and porn stars but, the policy of the Snapchat and Instagram does not allow nudity and adult content and the account gets banned. You can use the adult content for first few days if you are not tracked soon after you got in notice, your account will be blocked.
Not only these adult stars lose their followers but also their source of extra income.
If you are also one of the adult stars and are getting tired of your accounts getting banned every now and then, don't worry, I have got you covered. Just read this article and you will get to know what to do.
In this article I will tell you about the best alternative to Snapchat.
OnlyFans is the best alternative to Snapchat that you can ever find. Unlike Snapchat, OnlyFans actually does support adult content. Here you can post all types of Adult Contents.
On this platform you can post as much adult content as you want without having to worry about getting your account banned and losing your followers and income. you can make a good portfolio here.
Let's get some in-depth information about this platform. It will help you understand why you need to switch to OnlyFans today.
What is OnlyFans?
OnlyFans is a social network platform that allows cam girls and other adult models to sell premium subscriptions. They can sell the premium subscriptions to their customers/fan.
The subscriber, in order to keep viewing the content without any interruption, has to keep paying a monthly rate which is set by the creator. You can set the subscriptions price for your viewers.
They can add adult content to their premium subscriptions, the only catch here is that all the adult content has to be censored till the time viewers subscribe to the account. Only then they can unlock the adult content.
OnlyFans is a great way for adult stars to earn some extra income without leaving their other jobs.
OnlyFans is one of the best platforms to sell your adult content and earn some money without the thought of getting your account banned for life. This is best platform for a passive income source for a cam model.
It is one of the innovative social networks which can be used and is widely used by the cam girls, porn stars and many adult entertainers. Its getting its popularity.
This monthly subscription payment will allow the fans to access the profiles of the cam girls and other adult entertainers.
It allows the models to charge a monthly subscription from the fans according to their free will. You can set any price for your monthly subscription for your content watchers.
They also have provided access to the sellers through a mobile application that makes camming easier. Live camming is also supported on this platform to make extra income.
What is the Commission Rate of OnlyFans?
This is one of the most important questions that need to be addressed in this article.
By this time you know that OnlyFans can help you make extra income, but you must be wondering how much money you can make from this social network platform. Even other social networking site does't allow the adult content.
The revenue generating model of OnlyFans is fairly simple and very easy to understand.
Whenever you sell any subscription to any viewer, OnlyFans give you 80% of the payment received. This is one of the highest PayOuts as compared to Snapchat and other such social network sites. This is really a big amount that any adult site is providing.
The payment system of OnlyFans is a two way function that takes commission from the subscriber on your profile page and also from you. But it still gives the highest PayOuts as compared to other platforms.
How will I Receive Payment?
This is where OnlyFans stands out from the rest of the competition.
The payment processing system is in-built in OnlyFans thus eliminating the need of the any external or third party billing and payment portals.
Generally, cam girls and adult stars have to make use of third party applications for receiving payments for their subscriptions. So they have to loose some amount of money for the third party as a service charge.
Even if they had their own camming site where they had an adult-friendly payment processor, Snapchat does not handle the payments directly.
With OnlyFans, sellers can set up their account and receive payment directly from the company directly in their profile page on OnlyFans. So here you have to no worry about third party commission deductions.
The subscription cum payment integration's ensures that the whole task of selling adult content to the buyers is easy and transparent.
How Much Can I Earn Through OnlyFans?
Heading over to the much obvious question, how much can one person earn from OnlyFans?
The minimum monthly rate a model can earn is approximately $2.50, but there is no upper limit to this figure. If you have a good content in your account and you have a good fan following, you can make a decent amount of money from this.
The rate for subscribing your OnlyFans profile is entirely up to you and OnlyFans have no control over it.
You can ask whatever price you want from the viewer to let the viewer get subscription and free access to you profile.
Whatever you decide for your profile, the viewer will have to pay and you will receive 80% of the profit from OnlyFans for the subscriptions.
Apart from the regular source of income through selling the subscriptions, you can earn some extra income by referring other cam girls to OnlyFans. You can get register yourself as an affiliate.
If you refer any of the cam girls to the OnlyFans you get to earn 5% of their lifetime income.
That means, whatever the referred cam girl earn through her subscription, you will make 5% off of that income. So this is another good thing about the OnlyFans and you can earn from both sides.
Fanscope- The Ultimate Feature of OnlyFans
This is another feature that has made OnlyFans an obvious choice over Snapchat.
This feature is a mix between Snapchat and Periscope but with the awesomeness of OnlyFans. Let me tell you about this feature real quick.
With the help of Fanscope, the cam girls and the adult stars are assisted in broadcasting live sessions for their subscribers. Here you can make a live sessions for your fans.
This feature is not available in Snapchat, thus making OnlyFans a clear and obvious choice over Snapchat. With this feature, the cam girls and the adult stars can earn some extra tips while camming live on their account.
This feature is helpful in adding value to your subscriptions, and also producing some extra income through various tipping games, tip goals and more such stunning features.
Once you activate Fanscope, the live feed appears directly on your timeline.
It also offers a chat box on the side that displays all the messages you have received by the subscribers along with the tip made. So you gets notified instantly when something happen in your account.
OnlyFans VS Snapchat
A lot of cam girls and other adult stars are shifting from Snapchat to OnlyFans and it is no surprise, given the fact that it has more features than Snapchat.
The simple reason of this shift is that nowadays cam girls want to make money off of their sexy and naked pictures and videos.
This is one of the greatest semi-passive income streams that every cam girls is using these days and they are making money from this stream.
They want guys to subscribe at their profile and tip them for seeing their adult content such as sexy videos and pictures.
There are many cam girls who are making good amount of revenue from their OnlyFans page by making people subscribe on their profile.
The interface is really simple and it takes only a minute to register yourself and start making money from your profile.
In no time, OnlyFans will leave Snapchat behind and every cam girl and adult star will be using OnlyFans and Fanscope for making money.
Advantages of using OnlyFans
There are many advantages of using OnlyFans some of which I have listed below to help you make a better choice between sticking to your original social network or shifting to OnlyFans.
The interface is clean and minimal.
The PayOuts are done daily once the threshold reaches $10 unlike other platform that does PayOuts every weekly or monthly.
No unwanted viewers on your profiles. Only the viewers who have subscribed to your page will be able to see your nude and sexy pictures and videos. To other viewers, it will be blurred.
​The Fanscope lets you do live camming sessions for the people who have subscribed to your page, and lets you earn tips in those live camming sessions.
You can choose your own subscription rates without any interference from OnlyFans.
The payment plan is very simple and not at all complex.
Tips for making money on Onlyfans and building a huge following
Just like any other service you need to market and promote your onlyfans page in order to make amazing money.
Since onlyfans wont do promotion on your part, so that job is with you. You need to sell your content to prospective buyers.
Fill the right keywords in your profile so that people searching for those keywords can find your profile and then become paying members.
Give teasers on what people can expect in your only fans page by showing some teasers on your website, twitter and other places that you are on.
Promote your onlyfans page on Twitter, Tumblr and all the other places you have an account on. The more paying monthly subscribers you have the better for you.
I see that many people make this mistake of not adding content consistently. See people are paying monthly fees to get your content on a regular basis. If you dont give them that they wont renew their subscription and you will lose a loyal fan. So make sure you provide high quality content that too consistently
Make goo use of your bio. If you are on any camming network or selling any other service like skype shows, then make sure you have the link to that in your bio.
If you are posting videos make sure they are HD and are shot with a high quality camera. If i am paying money to check someones content i hope for at-least high quality content.
​
Start Using OnlyFans Today!
Are you ready to start using OnlyFans and earn money?
Well then, register for an account today.
The registration process is very easy and quick and it does not take long. Once you have signed up, you start earning within no time.
Use your OnlyFans page to let viewers subscribe to your profile and tip you.
Any file types can be uploaded on OnlyFans and the viewers can subscribe to your account.
I hope this article was helpful for you, If you like this you can write me to in my email and also write in the comment section below.
You can join the OnlyFans just clicking below link: