Creating and selling your own homemade porn adult content can be one of the best ways not only to make money, but also gain a huge number of followers. You can't deny the fact that there's just something incredibly attractive about regular people like you and me going at it, as opposed to professionals in a studio.
This is exactly why amateur porn was and probably always will be one of the most popular porn genres. Unlike the old days, there are not multiple marketplace sites that let you promote and sell your content on them, for a small cut. They usually do a lot of promotion by themselves as well, so almost everything is taken care of.
Things to Know Before Selling Amateur Porn Online
Before, we jump into 'how to make homemade porn online', you must know a few things beforehand. You would need the following knowledge-base for not only selling porn videos but also to become a well-followed star of the homemade porn category.
1. Earn a good number of followers
If you already have a name in the adult industry as a cam girl or a model, getting followers for your homemade porn would not be a tough task. However, if you have just started your adult career, things would go a little south without marketing and promotion. So, before starting a profile to sell your porn online, get a decent base of followers, maybe on social media or popular cam-sites.
2. Sites You've Registered
Unlike live cam performances, you can sell amateur porn online on multiple sites at a time. It is just a matter clicks and account verifications, you can have a presence on several porn sites at the same time. Use this opportunity and like all those popular models and porn stars, sell your videos on all the trusted sites in the market. It is a good way to make a handsome earning without having to do extra-shifts.
3. Do Marketing Properly
Having profiles on multiple sites is not just enough to sell porn videos. Establish a fan following through proper marketing and promotion. Use every set of opportunity to promote yourself on popular cam-sites, tube sites, and social media platforms. Without marketing, someone can discover only free porn. People won't know about you and your best homemade porn without marketing.
Requirements to Sell homemade porn
You can sell homemade porn videos in no time if fulfilling the following simple requirements before starting your sale:
1. Age Restriction
You must be at least 18 years old to make homemade porn video. Not just that, anyone features in the video must also be above 18.
2. Camera to shoot videos
Amateur porn, in the primitive sense, is all about poor lighting and average quality mobile-recorded videos. However, they get wasted as free videos on the internet. If you really want to establish yourself as a professional name and get paid for your efforts, consider good lighting and high quality video recording as your priority. Don't go for mobile cameras, they are clumsy. Prefer the following stuff for shooting best homemade porn videos-
A DSLR to make for HD video recording
A good mic for audio recording
A camera stand/tripod
3. PC and Internet
This is not a big requirement. This is 2019 and almost everyone has a computer and access to the internet connection. But even so, if you don't have one, try getting the following three stuff for starters-
A good computer/laptop with enough storage
A professional video editing software
A good internet connection
Top 7 Sites to Sell homemade porn
Selling your homemade porn videos is also a really great idea because it can serve as a constant source of income that you don't have to work for constantly. It's like a product that can be sold and resold, which makes money without your intervention. For example, if you're a cam model, you'll need to actively perform to make money, but with recorded content, you're making money without even doing anything.
You can just keep adding to your portfolio by understanding what type of content is more popular, and within no time create a steady source of income without leaving the comfort of your home. If you're interested to take this forward, here's 8 adult website marketing sites on which you can sell your amateur homemade porn videos:
Amateur Community
Amateur Community is one of the most well-known platforms to sell homemade adult content. Apart from allowing you to upload and sell your pictures and videos, Amateur Community also offers you money to send and receive messages which is an added bonus. Couple that with a 2 week payout schedule, and you've got one of the best platforms to sell your homemade porn on!
Technically advertised as a 'fan club platform', ModelCentro is a great service that lets you create a good looking membership based site for free. They basically offer a cool website builder with a lot of bundled features and take a cut of profits earned from the models, which in this case is 15%. Apart from the website builder, there is an inbuilt payment processor, SkyPrivate integration, and Streammate integration. This allows models to both perform for private Skype shows as well as link their public camming network profiles here. So you have a one stop shop for all content from a model, which includes pictures, videos, shows, cam profiles and more. Highly recommended!
MyDirtyHobby
If you're looking to go international, then MyDirtyHobby is a great way to do so. It's a European platform that lets you sell adult content in the form of photosets and videos, in addition to one on one shows and chats. Primarily geared towards European audiences, specifically German and French speaking users, it's also quite popular in English. The best part is that the camming software is all web based, so there's no need to download any extra software to get started. Payouts happen on the 16th of every month, and models get to keep 50% of all sales and revenue earned from chats and cam shows.
Now if you want to sell even physical items in addition to shows and media, CamModelStore is the place for you. It offers you the option to create a custom link to your store page where you can sell anything from photos and videos to lingerie and sex toys. It's a truly great platform to build a brand by selling a diverse amount of content, as well as interact with fans. There's also a camming feature, live chat, the option to start a phone sex line and link to all social networks. The 80% revenue share for models is another huge highlight. What else could you possibly want?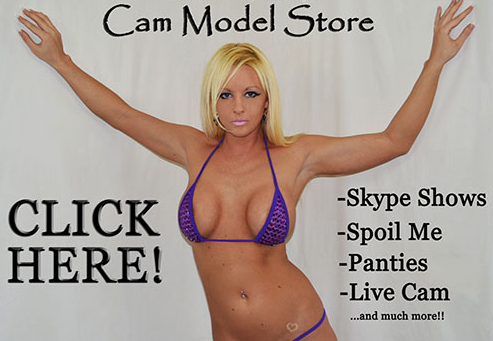 Clips4Sale
If video clips are all you want to sell, without getting into the complications of live camming and all that, Clips4Sale is our recommendation. This simple and straightforward adult marketplace lets you sell your homemade porn and upload them to a huge number of categories, so no matter your fetish or niche, there's always place for you. The revenue earned is shared between the uploader and Clips4Sale, with the uploader keeping 60% of the cut and Clips4Sale keeping the rest. One of the best no-nonsense platforms out there, we think!
Next up is the incredibly popular and easy to use ManyVids. Preferred by models and aspiring pornstars the world over, ManyVids is something of a brand in itself. Models who choose to sell photo sets, videos or shows on the website are referred to as 'MV girls' and have the option of selling custom content, sex toys, lingerie, Kik and Snapchat usernames and much more. Almost anything under the sun related to adult entertainment can be sold here, and models keep 60% of the revenue. The popular platform is known to have high payouts, so it's a great way to start out your porn career!
Other Platforms Where You can also Sell Your Own Homemade Porn
Finally, we have the cleverly named and quite versatile adult marketplace called ExtraLunchMoney. One of the most fully featured platforms out there, ExtraLunchMoney not only lets you sell photo sets and videos, but also offers the options to sell lingerie, panties, Skype shows and unlike others, Kik and Snapchat accounts. A lot of users would pay good money to directly interact with models on their private social media accounts, and ExtraLunchMoney gives models the options to sell them for varying durations and prices. Throw in the fact that models can get paid to send and receive texts, and you've got a marketplace that gives you the ability to create truckloads of money in no time!
Pornhub Modelhub
The leading adult video streaming site, Porn Hub Network, offers the content partner program to thousands of content creators to get exposure from over 100 million daily users on the site. You can always leverage this high-traffic site to convert your best amateur porn videos into handsome incomes. In fact, amateur porn in one of the highest searched porn categories on this site. It offers payouts though multiple methods of payment such as Wire, Paxum, Paypal, and check.
iWantClips.com is a suitable location for selling and reselling of authorized adult content in multiple formats such as video clips, pictures, audio recording, and documents. It allows the content producers to sell at their own price. There are plans, which allow you to take 100% of the sales made. In addition, they only take 20% of the tips you get from the fans. Best part is, they also support pre-orders of the videos, which means a definite sale will happen indeed. Though it bases the US, the site also allow off-shore content creators, with a little tweak in the payout terms.
Sidedaddy is a perfect and much niche site to sell homepage porn videos. With a verified account, you can become one of the top models on the site and gain a popularity though best amateur porn you can make. You can sign up both as an individual model or as a studio house. You earn the following cuts from the sales made in different categories-
Membership Subscriptions: 70%
Per-video sale: 60%
Tribute or tips: 70%
Sale of Custom Content: 60%
They make the payouts using Direct Deposit (in the US) and Check payments (in the US & International). One you make a sale of more than $20, you can request a payout.
How to Protect Your Content on Porn sites?
The stealing and piracy of online content is extensive considering the ease on the internet. Be it a text, image, or video, it so easy to just steal a content with few clicks and download a copy to republish it as your own. Having your homemade porn stolen can be a deal killer and affect your willingness to continue selling. Luckily, there is a few methods and cautions you can follow protect your content on the sites you submit your videos.
Sell on a site that follows the DMCA guidelines and allow copyright striking.
Check if the site has placed a copyright notice.
Water mark your videos before publishing.
Check if the site is offering video encryption to protect piracy and illegal downloads.
In case you find your video being distributed illegally, file a DMCA takedown notice.
If the above tactic fails, take the legal route and file a Cease & Desist notice through your lawyer against copyright infringement rules.
Will Your Identity Get Revealed?
Most of the legitimate porn sites have policies and guidelines that protect your privacy. They even allow you to give a fake name on your model profile. You can use the advanced features like geo-blocking to make sure no one in your locality can see your videos or check your profile.
Tips to prevent your identity
Make your professional social media profiles private, visible only to fans and customers.
Join a part-time job. You don't want your neighbors questing your source of income when you are earning from porn but can reveal that.
Advantages of selling porn clips/videos apart from webcam shows
Live camming is an outstanding career and offers excessive ways to make good money. However, if you consider selling amateur porn clips/videos as well, it won't take much of the extra efforts. In fact, it might just give you a boost in your cam girl profession. There is an array of other advantages of selling clips besides the live cam performances:
No extra setup required. You can record your videos in the same web-cam setup.
No training required. Amateur porn is all about imperfections and natural operand.
Gives a boost. People see your clips and might request a live cam performance if impressed.
Dual earning combined with active and passive methods, makes a full use of your charisma.
Not just that, you can choose several additional options like Phone sex, Adult Skype shows, modeling for adult and erotica products, etc. All the niches in adult industry are so interlinked that you can make good money by taking part in one, two or all of them.
Tips on how to make homemade porn
It is easy to make amateur porn videos. Take a mobile phone and just start recording.
Do you think it would work? If it was for a few years back, it would have worked perfectly. However, things have changed by the year of 2019. Today, you face competition even in the porn industry. It is tough to make the videos fitting to this niche and still grossing high on the internet.
By this time, you know where to sell, and what the things are you would require. Here is a list of top tips you might find helpful to make homemade porn videos that sell good on the internet:
Be organized: Don't just make random videos. Find a niche that suits you the best and trending at the same time.
Research competition: See what other names in the niche are doing. Understand their tactics.
Research expectations: Buy premium memberships and check out the trending videos to analyze the stuff in the niche. It would help in finding out things that viewers like.
Replicate trending stuff with a twist: Don't just copy what others are doing. Take an inspiration and give your video a twist with something that no one else is doing.
Create luring thumbnails: Thumbnails are important while uploading a premium video. Create some attractive thumbnails to summarize the whole action. Some sites also allow cut scenes to promote premium content, use that and create teasing cut scenes.
Take multi-angle shots: If you can afford, use multiple cameras to take multi-angle shots. You can use multiple tri-pods and a good video editor to make the video exceptional.
If you read the article from the beginning, you know where and how to sell porn. Here, I have more tips for boosting your sales. By following a more professional approach you can sell your amateur porn with no hassle. I already explained some tips in the article. Here are a few more:
Sell on multiple platforms- to use every set of opportunity and gain exposure.
Update your profiles- completely with all that seductive bio of yourself.
Use good quality images- for DP and thumbnails.
Optimize your videos- with all keywords and tags to come in the site search results.
Sell other content- like nudes, web-cam sessions to boost your popularity.
Use Snapchat takeover– to promote and make new connections.
Promote on niche sites and social media– like Twitter hashtags, Kik, Reddit, AdultNode, Facebook, and others. Tweak your posts for each platform to promote adult content without violating the TOS.
Hopefully, this article was a one-step solution for all your questions about the ways of nailing this porn genre. Despite staying a little left from the mainstream media, adult industry has not been just surviving but thriving with the time. Amateur porn is one of the highest searched porn categories. If you can master the niche, you can earn like never before, and without investing much. Catch is, know of the dark side of the internet and partner only with the trusted names. Never share your videos on a site you don't think is genuine. Research is the key, use internet and research the stuff you have a doubt about. You can also drop a comment to ask your questions.